At the top of each active listing, you can see how long a home has been on our site under, 'Days on Redfin'
.

Days on Redfin can differ than Days on Market, which is noted through the MLS. The way it works is when a home is listed for sale, it is assigned an MLS number. As soon as Redfin receives listing data for this MLS number, the 'Days on Redfin' counter starts. This way we can give a clear picture of when the home was actually listed, rather than resetting the timer whenever there is a pause in the active listing status.
The Days on Market shown through the MLS indicates how long a home has been active in their database. If the property was temporarily taken off the market and relisted, this number will reset because Days on Market only counts the time the home was active and does not include delisted events or periods where the home was temporarily taken off of the market. This is not the case for Days on Redfin.

For example, the home above shows 108 Days on Redfin. Looking at the home's Property History, shown below, you can see the home was originally listed on October 29, 2018. Although the home was taken off market in November and relisted on February 11, 2019, because the original list date was in October 2018, that is where the Days on Redfin began.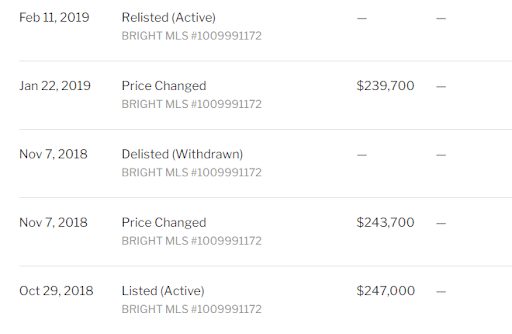 If you're interested in re-setting the Days on Redfin, delisting the home and relisting with a new MLS number will refresh the count.