Were you monitoring a home on Redfin, but when you went to check on it later, it is no longer active and doesn't show a recent sale? If so it may mean that the home was delisted or withdrawn from the MLS, or the listing agent removed the listing from the market by the request of the homeowner.
The image below shows an example of a delisted event in property history and will let you know why the home is off-market. To find this you can either click on the Property History button above the pictures of the home or scroll down the page where you will see this header: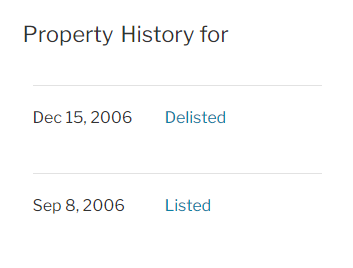 *Note not all homes that are delisted will show an event depending on the rules of the local MLS.
There are multiple reasons that this would happen:
-The homeowner changed their mind about selling
- The seller's contract expired
- The homeowner still wants to sell but has decided to wait till a different time to re-list
When a home is delisted from the MLS, details such as the listing photos, listing price, and description will no longer be available on Redfin. What will show on the property page instead, will either be the sale information from the last MLS listing or public records information from the County Assessor.
Depending on the reason for the home being delisted it is possible that the property may be put back on the market, so you can keep your eye out just in case it is relisted! To get updates when the home goes back on the market, add the property to your list of Favorites.