We Survey Our Customers And Show You The Reviews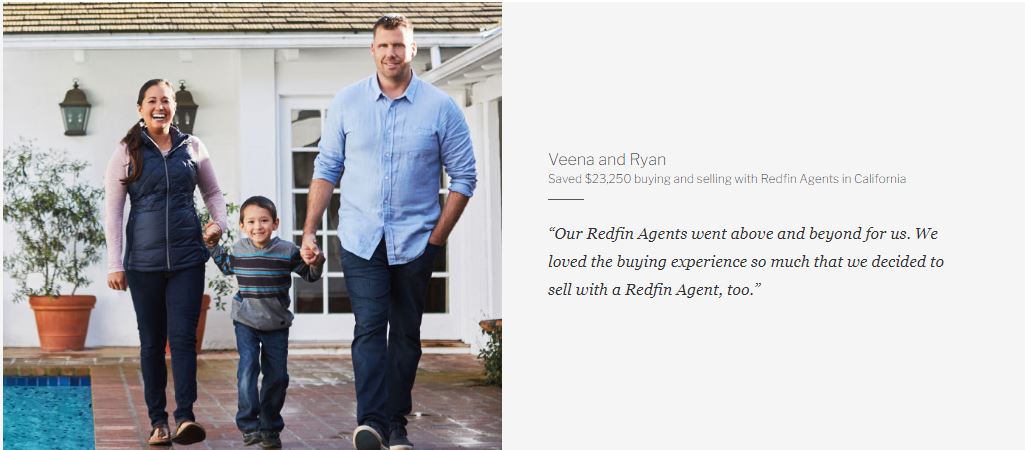 We believe that every customer's opinion is important and that everyone using Redfin should see how our agents performed. We survey customers who sign an offer or list a home, regardless of whether they successfully complete a sale with Redfin. We publish these reviews--the good, the bad, the ugly---on our agents' profile pages. This not only lets you see how Redfin did as a company but also helps you choose the right agent.
We prepared this list of frequently asked questions. If you have more questions about agent profiles, how Redfin works, or anything else about the site, feel free to contact us directly.
Frequently Asked Questions
Does Redfin survey every customer and post every review?
While we try to survey every customer and post all received survey responses, there are limited situations when we will not send out a survey or we will hide the response, for example:
When Redfin has to terminate the relationship with the customer.

If the customer exhibited rude or inappropriate behavior towards one of our agents or asked one of our agents to act unethically.

If a customer is transferred to a new agent in the middle of a deal (for example, because their former agent no longer works for Redfin).

If a customer works with multiple agents, goes on multiple tours or writes multiple offers. Those customers may get only one survey.

Where a survey response violates the Community Guidelines outlined in

Redfin's Terms of Use

.

When Redfin and the customer agree that the customer will not receive a survey or will not have their survey response posted.
In addition to publicly-displayed surveys, we may send our customers short surveys designed to help us improve our customer service. The results of these other short surveys are not displayed on our site.
Some surveys say "No response". What does that mean?
Clients don't always respond to the survey. We still wish to show you the transaction involved so you can see the homes that the agents helped buy or sell.
When does Redfin send out a survey?
Redfin surveys clients after one of their first 3 tours with Redfin and after they sign their final offer with us to buy a home, or after they sign a listing agreement to sell a home. If the client tours multiple times, the client may not get surveyed every time, to prevent survey fatigue. For the same reason, if a client submits multiple offers, the client will receive a survey only once, usually after they close or 30 days after their final offer. We show the responses to these surveys because we want to know how we did and feel that it's important to share that information with our customers.
Sometimes, when a client continues working with us over an extended period of time, we'll push out the survey time-frame by an additional 30 or 60 days. If you think you should have received a survey, but we haven't sent you one, just let your agent know.
What does the survey look like?
There are different surveys depending on the event. For example, there would be a different survey for a home offer versus a home tour.
The survey itself is broken into two smaller surveys. The first survey is the same for all events and asks:
How likely are you to recommend your agent's real estate services to a friend or acquaintance? (Rated from 0 to 10, with 10 being the strongest possible recommendation.)

Please review your experience with your agent.

Can we anonymously share your comments about your agent with other Redfin website users?

We will never share your name, email or other contact information

.
If you worked with a Redfin partner agent, your survey may include additional questions about your experience.
Once the client submits the first survey, the client may be taken to a longer second survey. The second survey asks questions that are specific to the event. These responses are used internally for things like developing demographic statistics and are not directly displayed on Redfin.com.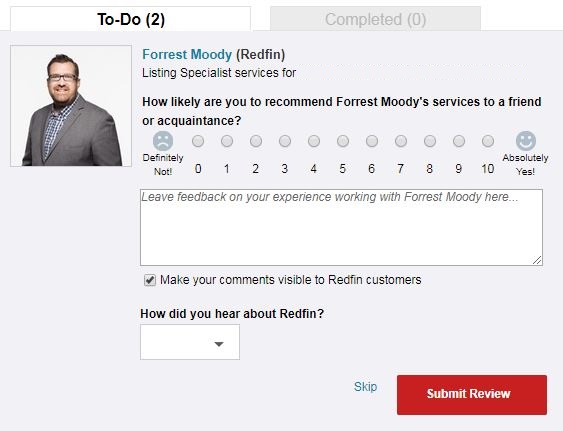 How is the star rating calculated?
The star rating is the average of all of the returned ratings. The returned rating is actually measured on a scale from 0 to 10. All ratings are averaged and then divided by 2 to get the overall star rating.
What question is asked to get that agent rating?
The question is "How likely are you to recommend [Redfin Agent]'s services to a friend or acquaintance?" It is considered by many experts to be the best question to determine customer satisfaction. Clients can answer on a scale from 0 to 10, with 10 being most likely to recommend Redfin. This is used to calculate the agent rating and Redfin's overall Net Promoter Score for the agent(NPS). This score is divided by 2 to get the star rating for each review.
If the same client returns two surveys with two different ratings for the same agent (e.g. the client made multiple purchases through Redfin), how does that affect an agent's score?
Both ratings are included in the agent's score. No scores are excluded by default.
Why is the number of deals sometimes different from the number of reviews?
Deals include only transactions that result in a successful home purchase or sale. Reviews include all survey responses, regardless of whether a home is bought or sold. If an agent gets a review based on an offer that was not accepted, this would count as a review, but not a deal. On the other hand, if the client bought a home but did not return a review, this would count toward the agent's total deals, but not toward total reviews. This means that the number of deals and the number of reviews don't always line up.
I used Redfin to make an offer on a home, buy a home, list a home, or sell a home and I did not get a survey. How can I get surveyed?
There could be several reasons for this:
We don't have your contact information or we have the wrong contact information. We send surveys via email. If you gave us an email that you don't check regularly (e.g. an email address just for Redfin but no other purpose), you may not realize that you received a survey email.

The email might have been filtered to your spam or junk email folder.

There was a technical issue or outage when your email was supposed to be sent. To get a survey sent to you again, please reach out to Customer Service.

Please see FAQ above for other reasons why we may not send out a survey.