We would love to help you see a home! As a full-service brokerage, Redfin can help you tour, submit an offer, and answer questions about the buying process. If we have available agents, you will see an option to schedule a tour through the 'Go Tour This Home Feature', found to the right of the photos of a home.
Here, you can select a day, with the option to access the right arrow to see dates later in the week.
After pressing the "schedule tour" button, you will be brought to a screen that will ask what time works best for you. If you see a lightning bolt symbol next to the time slot, that means a Redfin agent is available at that tour time, we will still need to confirm the tour with the listing agent once the home tour is submitted.
Next, you will fill out your contact information along with any notes you may want to send to the local team!
After you book your first home tour, adding more homes is super simple! You can add more homes by clicking the 'Add Homes to Tour' button.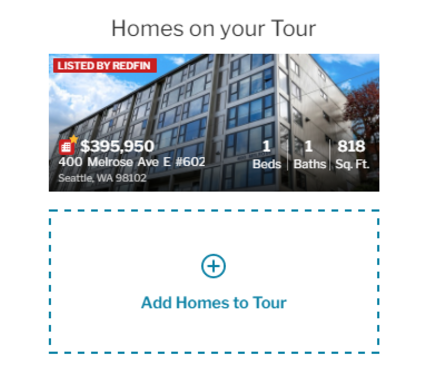 Another option to add homes is when you are searching for homes on Redfin, you can select 'Yes, Add This Home', which will appear on the right side of the screen for every active listing.
If this is your first tour with Redfin, you will be asked to verify your identity. Check out this article for more ore information on

verifying your identity

.
When you complete your tour request, you will receive a confirmation message, letting you know when you can expect to hear from the local team about your tour. Once we confirm that the home is available to tour and confirm which of our agents will be meeting you, we'll reach out to you by email with all the details.
Want to check the status of your tour?