We partner with GreatSchools.org to give you ratings and parent reviews of local schools in the areas where you're searching for homes.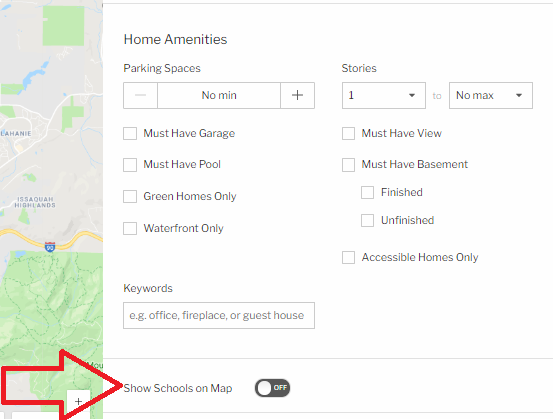 Search for Schools
You can search for an individual school in the search box, or just click on a school icon on the map to see more information about the school.
Schools information will appear on the right side-pane when you click on a school icon on the map. You'll see the GreatSchools rating and parent rating, along with other details about the school.
Nearby Homes and Recent Sales
You'll be able to search for homes for sale, or that are recently sold, by hitting the 'Homes for Sale in Attendance Zone' link on the school's detail page. You can also search within the search text box for that school and you'll be able to find the homes on the market for that school.
Schools on Listings
Each home listing includes a chart that shows up to five schools that may include the home in its service area. Up to five of the nearest elementary, middle, and high schools are also shown. Ratings from GreatSchools and parent reviews are also included, if available.
To see which homes are located in a school's service area, click the Map It icon in the Homes column of the chart.
Keep in mind that the service areas shown should only be used as a reference and a home's proximity to a school is not a guarantee of enrollment. To verify enrollment eligibility for a property, please ask your agent or contact the school directly.
Redfin receives the school information from GreatSchools.org, if you notice that any information is incorrect please let us know! We want to make sure we have the best information around, so we want to know if it needs to be updated!